PAYMENT INFO
Northern Communication Services Inc is the parent company for a number of companies/departments and processes all payments on their behalf.
We offer multiple payment options to our clients. The most convenient and hassle-free way to handle your account is to sign up for both Online Billing and pre-authorized bill payment. You will receive a paperless bill online and your balance will always be paid on time!
Payment options: Due to banking regulations, some options DIFFER for our Canadian and United States clients.
| Payment Options | Canadian Clients | US Clients |
| --- | --- | --- |
| Pre-authorized payment from your bank account | ✓ | ✓ |
| Pay online at a bank or credit union | ✓ | n/a |
| Electronic Fund Transfer | ✓ | ✓ |
| Automatic Visa and Master Card payments | ✓ | ✓ |
| Wire transfers | ✓ | ✓ |
| Money order | ✓ | ✓ |
| Cheque | ✓ | ✓ |
| E-Transfers | ✓ | n/a |
* Please note that credit card payments of $1,500.00 or more are subject to a 3% administration fee.
For more information on how to sign up for paperless invoicing and payments, please contact admin@northerncom.com.
WE ACCEPT E-TRANSFERS
Northern Communications accepts payment by Interac e-Transfer (Email Money Transfer). To pay by Interac e-Transfer, you will need to access online or mobile banking through a participating financial institution. It is a simple, convenient and secure way to send and receive money directly from one bank account to another.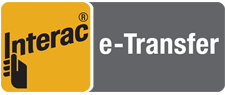 Please send payment to: payment.notification@northerncom.com
Next, you will be prompted to assign a security question for us to answer. Please use the following question and answer:
Question: What is my account number?
Answer: Please enter your account number located on your invoice.
Upon payment, please record your confirmation number for reference.
We accept VISA and Mastercard

Go Paperless!
Paperless saves a tree, is good for the environment and is smooth and automatic. We are trying to be as Green as possible and have implemented a $4.95 paper invoice fee. If you are paperless, you will avoid this fee.
Other reasons to go paperless;
Eliminate Carbon Waste caused by printing and shipping paper documents
Eliminate the inconvenience of shredding and recycling
Protect your privacy by not having information accessible on paper.
Many companies and residential clients simply keep electronic copies of invoices and do not print them. This is very green.
For those that cannot store invoices electronically, our logic is that they will print one piece of paper as compared to the economic and "green" cost of us printing a piece of paper, sending it in an envelope and providing a return envelope. Essentially, 3 times the amount of paper is used for us to send clients an invoice as opposed to them printing it.
WHEN IS MY BILLING DATE?
Purchases are invoiced at the time of the sale.
For recurring services, we normally bill in advance on the first of the month for the base rate and the previous month's usage if applicable.
BILLING METHODOLOGY
For clients billed by time, Northern Communication uses industry standard type invoicing practices which include per call minimums and per call rounding. This applies to service calls, answering service clients, etc.
QUESTIONS?
If you have any problems or concerns, please call (800) 461-3317 or contact info@northerncom.com.
Contact Us
Have any questions? We'd love to hear from you so we can
better help you with all of your communication needs.